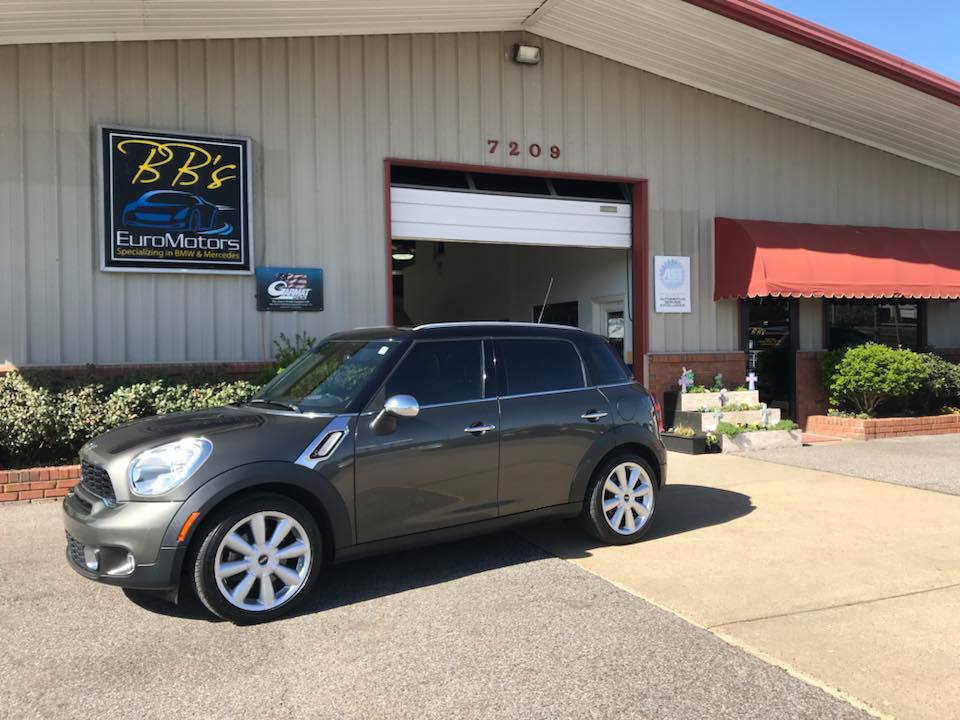 Let BB's Euromotors

take care of your Mini Cooper service needs
BB's EuroMotors will give your Mini the care it deserves. Bringing your Mini Cooper to BB's for maintenance or repair ensures that it stays in prime condition and will provide you with the driving experience you enjoy. Technicians are factory trained, certified, and ready to take care of your European Car of the Century. Customers will enjoy our professional facility which features the newest diagnostic equipment and the latest technology for Mini Cooper service and repair.
Is your Mini Cooper new and still under the warranty period? Let us be your warranty advocate. We highly recommend an oil service every 5,000 miles. BB's Euromotors can also monitor your car's systems during these services to see if there is anything that may need to be checked during the period of your warranty.
We are conveniently located in Olive Branch, MS with easy access for the Greater Memphis area. Be sure to check us out for all of your Mini Cooper needs. Quality is our top priority, and we promise to deliver.
Mini Cooper Maintenance Recommendations
BB's Euromotors wants to help keep your luxury vehicle in perfect condition. The performance of your Mini Cooper relies on routine maintenance and care. Whether you have a brand new vehicle or an older model, BB's takes pride in keeping it running smoothly and efficiently.
We offer the following car care recommendations to help you understand how to best take care of your European car. If you take care of it now, you will see the lasting effects in the future. Just like us, cars need proper care to help them continue to perform at their best!
We recommend the following maintenance intervals for your Mini Cooper:
Oil Change – every 5,000 miles
Brake Fluid Flush – every 2 years
Cabin & Engine Air Filters – once a year
Turbo engines (spark plugs) – every 30,000 miles
Non Turbo engines (spark plugs) – every 60,000 miles
Coolant Service - every 2 years
Transfer Case Service - 100,000 miles for X drive vehicles
Wipers - yearly
Tire Rotation - 8-10,000/yearly, if applicable
44k & MOA Service - every other oil change (or 10,000 miles).
Advantages
We take pride in providing you the utmost quality and service.
Get a Quote
Superior Service
We strive to be a leader in European automotive business by implementing pioneering ideas, problem solving & going beyond our customers' expectations.
Reasonable Pricing
Our Mission is to provide the best expertise and service at a fair and reasonable price, while being up-front and honest with each and every customer.
High-Quality Parts
BB's Euromotors is committed to maintaining vehicles through high quality automotive maintenance and reliable, dependable parts.
Schedule
Need Help With Your Car?
We'll fix it
We specialize in repairing and maintaining BMW, Mercedes, & Mini vehicles.
662-892-8790